Trivandrum, also called Thiruvananthapuram, is a relatively compact yet energetic coastal city. It is the capital of the state of Kerala and a popular tourist destination in South India. Our Trivandrum 4 Nights / 5 Days Tour Packages take you through its architectural marvels, historical landmarks, sophisticated art scene, and South Indian cuisine. The British colonial architecture will mesmerize you.
Trivandrum is naturally blessed with spectacular visuals. The low coastal green hills leave you spellbound. There are ancient holy sites, soothing backwaters, charming beaches, and verdant plantations. Spend a lovely time through multiple exciting activities. Young or old, you can experience your slice of Kerala in a tailor-made way with our Trivandrum 4 Nights / 5 Days Tour Packages.
Tour Packages Overview
Trivandrum 4 Nights / 5 Days Tour Packages are perfect for a refreshing tropical holiday. Whether you plan a romantic getaway, a solo trip, or a family vacation, we can customize them for you. You can connect with our travel advisors to discuss your travel needs and solve your doubts anytime. We will ensure that you stay safe and comfortable throughout your holiday.
Our top-rated Trivandrum 4 Nights / 5 Days Tour Packages involve hotel options, conveyance, sightseeing tours, and the best possible price. Experienced guides, well-curated itineraries, and hassle-free transfers are included in each package for your convenience. We arrange for you a private car for your Trivandrum tour. We also provide pick-up and drop-off from the airport and railway station. Trust us with the best shopping and eating places in Trivandrum for a perfectly local experience.
Our team selects the top-quality accommodations within your budget. They are meticulously designed to provide you with the utmost luxury and comfort. Complimentary breakfast is provided at some hotels, and it includes a huge delectable platter to select from. We can arrange a bonfire, candlelight dinner, barbeque, business meets and events and private dinner to enhance your holiday experience.
On request, the hospitable staff can serve you customized meals like vegan, kid's friendly, or special diet meals. Numerous optional services include baby care, indoor games, outdoor activities, ayurvedic spa treatments, fitness centers, and cycling tours.
Why Book with Us?
At Holidays DNA, we make sure you get the most out of your vacation. Our Trivandrum 4 Nights / 5 Days Tour Packages offer a complete guided tour of the city's hidden gems and most celebrated attractions.
Enjoy our top-notch services, such as private transportation, accommodation in luxurious hotels, and professional local guides to ensure you have a great time exploring the city.
We understand that some of our customers may be on a tight budget. We curate special packages for them covering the best tourist destinations in Trivandrum. With Holidays DNA, you can expect a hassle-free vacation without having to worry about planning and organizing everything from scratch.
Resort & Hotels options with Trivandrum 4 Nights / 5 Days Tour Packages
1. Anantya Resort: A 4-star property, Anantya Resort is a tropical retreat located amidst 1000 acres of rubber plantations. It is a heritage property nestled on the banks of the Chittar Lake. Surrounded by refreshing greenery, it provides a peaceful atmosphere. It boasts of a traditional Ayurvedic spa, outdoor pool, and a fitness centre.
2. Vivanta: A 5-star hotel, Vivanta by Taj is a stylish accommodation with well-appointed rooms. It features a specialty restaurant and an array of modern amenities. The smartly designated spaces come with complementary services. You can host a meeting or conference in one of the city's finest rooftop open-air banquet venues. Enjoy lush green surroundings and ample recreational facilities.
3. Estuary Sarovar Portico: A 4-star world-class resort, Estuary Sarovar Portico has a unique natural setting. It is located at a point where a river, a lake, a sea, and a beach meet. You can cherish the unique island experience. From the luxurious rooms, you can hear the waves crashing. Their Pool villas come with a private pool for an intimate experience. You can indulge in the best Ayurveda therapies delivered by professionals using ancient stress-relieving techniques.
Popular Sightseeing Places to Visit on Trivandrum 4 Nights / 5 Days Tour Packages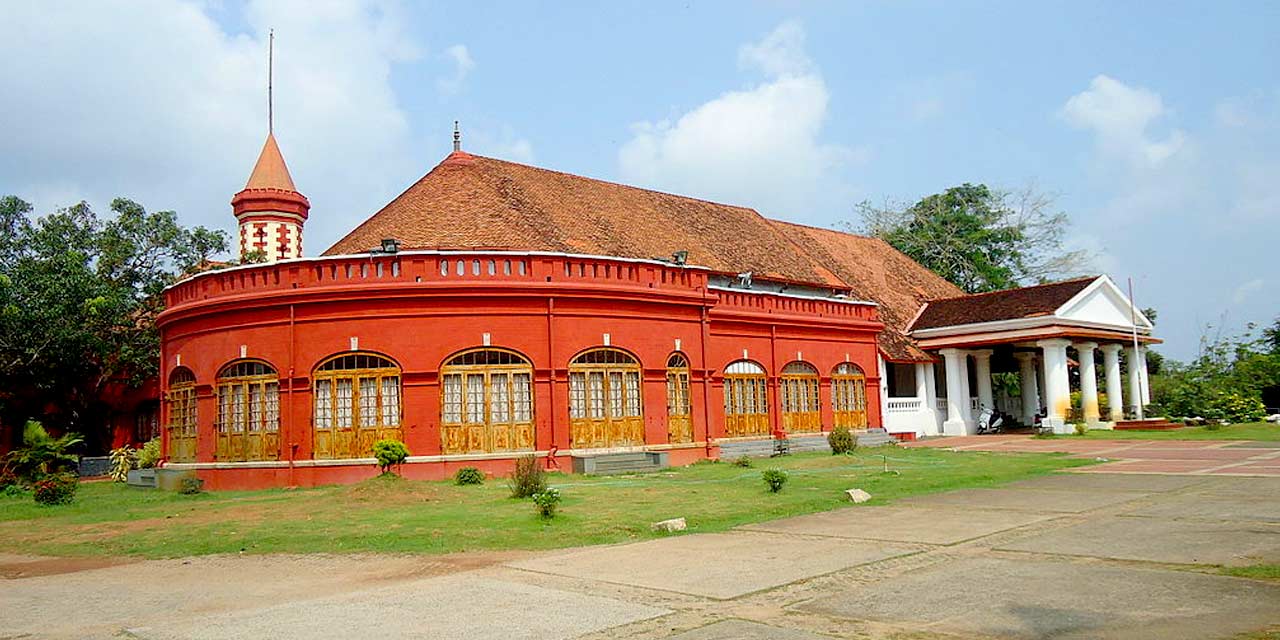 Located near the Napier Museum, Kanakakunnu Palace is India's 1st digital garden. It is a 19th-century building situated on a hillock. Today, the palace and its sprawling grounds host numerous cultural programs, seminars, and meetings.
The red-bricked structure is made of white stone dressings. You will love the amalgamation of Gothic and Kerala architectural styles. Its beauty is enhanced by the birds, meadows, groves, and flowering shrubs. From October to March, you can enjoy an all-India dance festival. You can relax, walk, and enjoy the evening breeze in the garden.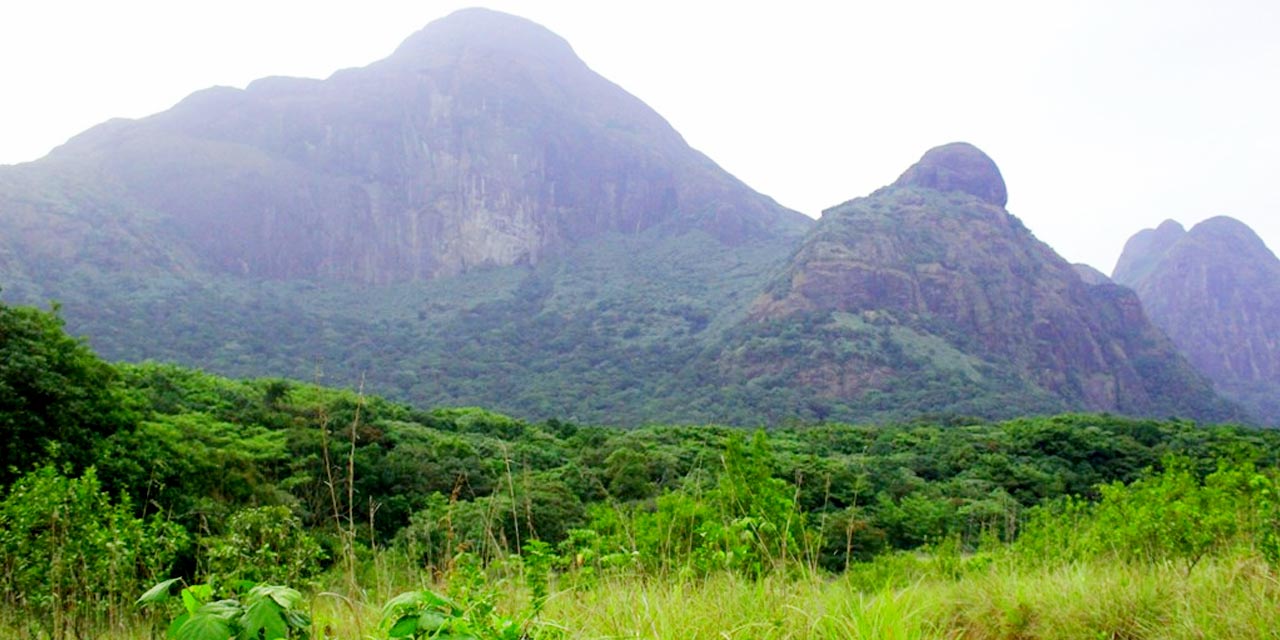 The Agasthyakoodam Peak is a part of the Agasthyamala Biosphere Reserve. At 1868 meters, it is the 2nd highest peak in Kerala. It is located within the premises of Neyyar Wildlife Sanctuary. You can witness the surreal beauty of the Western Ghats.
The slopes remain blanketed by purple orchids. It is home to rare species of medicinal herbs and exotic birds. It is also a major Hindu pilgrimage spot for the devotees of the sage Agasthya. You can offer pujas and prayers to his statue.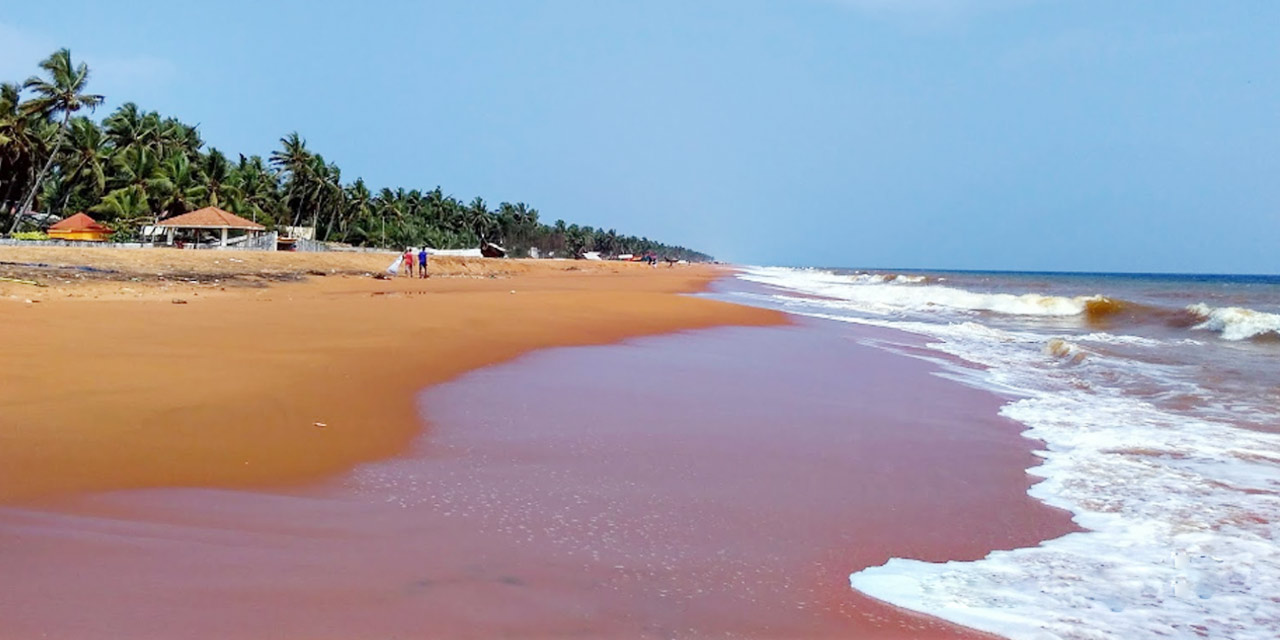 An off-beat yet stunning destination, Shanghumukham Beach is located near the Trivandrum airport. The vast stretches of white sand and the serene atmosphere are ideal for relaxation. You can visit it for a soulful sunset and pristine waters.
There is the Old Coffee House just across the beach, where you can enjoy your favorite beverages. With lots of street food available, it is a popular picnic spot. Try some quick bites at the Star Fish Restaurant. It is the prime location for Vinayaka Chaturthi and Ganesha Nimarjan. During special occasions, Hindus perform Bali Tharpanam.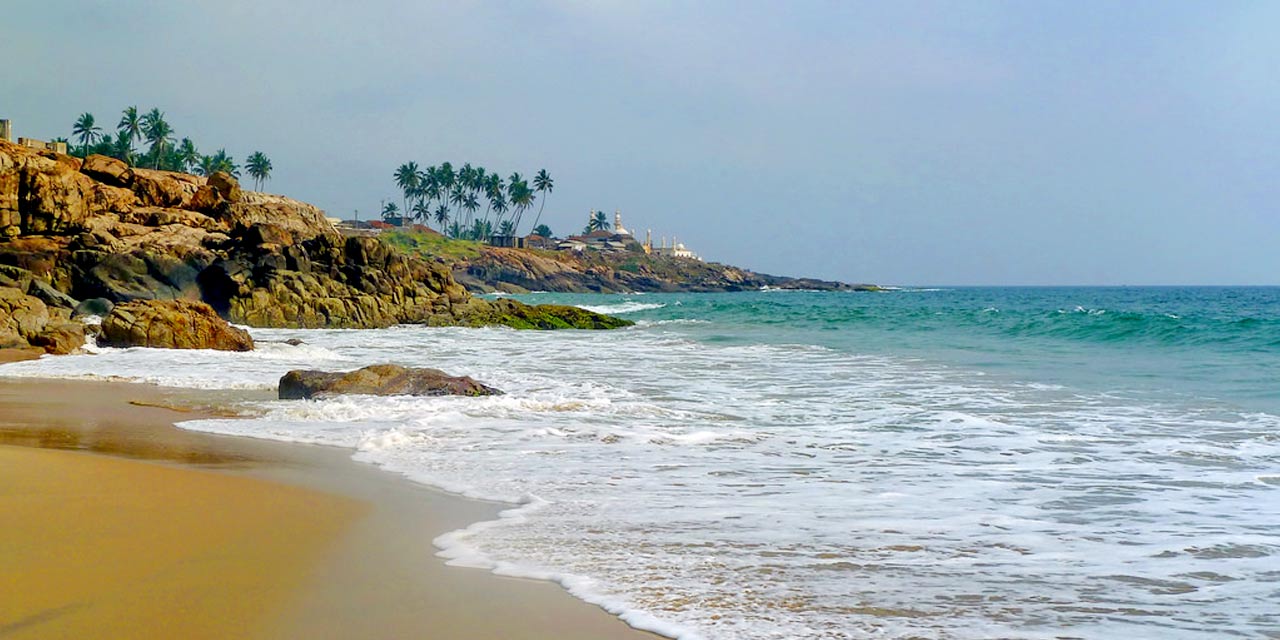 An idyllic beach destination in Trivandrum, Kovalam Beach is perfect to relax and rejuvenate. The golden sands and the serene blue waters are a sight to behold. You can take a leisurely stroll on the shore, amidst swaying palm trees.
For a thrilling experience, you can try water sports such as parasailing and scuba diving. There is an aquarium that offers fun-filled activities for kids. It also houses dolphins and exotic fishes from across the world. You can enjoy amazing seafood at the shacks near the beach. You can shop for souvenirs and local handicrafts from the market nearby.
Activities & Things to Do on Trivandrum 4 Nights / 5 Days Tour Packages
Trivandrum is a city that offers an array of activities for everyone. You can visit the 19th-century Napier Museum for its adorable collection of art, archaeological and historical artifacts. Take a spiritual tour of the famous Shree Padmanabhaswamy, Sree Pazhavangadi Ganapathi, and Attukal Bhagavathy temples.
Head to the Shri Chitra Art Gallery for the wonderful display of paintings by Raja Ravi Verma, Svetlova, and Nicholas Roerich. You can enjoy boating and fishing in the Neyyar Dam and Veli Lake. Thrilling adventures include skydiving, trekking, surfing, skiing, and several rides in the amusement parks.
Sarwaa Lifestyle sells handicrafts, garments, jewelry, and accessories under one roof. At Ramachandran Textiles, you can buy a variety of fabrics. MacAdil's Antiques is a one-stop solution for your rare and timeless objects. MG Road, with its myriad shops, is popular for street shopping.
Handicraft lovers can visit the renowned Kairali Handicrafts. The Chalai market is a 100-year-old bazaar with an excellent array of wares at wholesale prices. Head to Lulu International Shopping Mall and the Mall of Travancore for branded and lavish items.
Kerala-styled handicraft items with intricate designs are popular souvenirs. You can buy brass and wood carvings, coir products, Kathakali masks, copperware, cane items, and bamboo furniture. Old ceramics, antique furniture, timepieces, eyewear, and various artifacts make wonderful mementos.
Offbeat gifts include cuckoo clocks, blue delft plates, and authentic spices. Buy household products, toys, shoes, bags, electronics, and similar merchandise. You can purchase jewelry, cosmetics, and fashion accessories. Kathakali models and showpieces are great souvenirs. You can buy cast metal mirrors with handles, traditional Kasavu saree, and metal lamps.
Trivandrum is a paradise for foodies. Popular local dishes include Kadala Curry, Puttu and Kappa, Idiyappam with egg curry, Pazham Pori, and the famous Parota. The city also offers an exciting variety of seafood delicacies such as Karimeen Pollichathu, Fish Moth Curry, and Squid Fry.
You can try traditional Kerala Sadya, including boiled rice, banana chips, yam curry, jackfruit chips, and Pappadam, among many others. For dessert, you can savor the popular Palada Pradhaman and Payasam. You must also try the delightful filter coffee.
---
Trivandrum is a great place to get away from the hustle and bustle of daily life. With its balmy climate, stunning beaches, rich cultural heritage, and vibrant nightlife, there are plenty of things to keep you entertained during your trip.
Trivandrum 4 Nights / 5 Days Tour Packages are great for exploring the beautiful city. We provide a great selection of sightseeing attractions, thrilling activities, and unique experiences. Our team makes all arrangements for your trip, from your accommodation to food, travel, and sightseeing.