Calicut, also known as Kozhikode, is a lively city in the south Indian state of Kerala. The city is nestled between the Arabian Sea and the Western Ghats, offering a picturesque setting for visitors. Booking our Calicut City Tour Packages is the most convenient way to visit the ancient port city of Kerala.
With a rich history and cultural heritage, Calicut is renowned for its trade links, spice markets, and beautiful coastal landscapes. Tourism plays a significant role in Calicut's economy, attracting travelers with its stunning beaches, historic landmarks, and delicious cuisine. From exploring ancient forts and mosques to indulging in traditional Malabari cuisine, you can immerse yourself in the charm and allure of this enchanting city.
Booking Calicut city tour packages by Kerala Tourism, a subdivision of Holidays DNA, is the best way to explore this wonderful city. Our comprehensive tour packages cover some of Calicut's most popular attractions.
You can take a stroll down Kozhikode beach, explore the ruins of Tali temple, and watch traditional folk performances at Smaraka Auditorium. You can also visit local markets to browse a variety of spices and handicrafts, sample delicious Malabari delicacies, and take a boat ride across the Kallai River.
Our Calicut city tour packages are designed to meet different needs and budgets. Whether you're looking for a luxury stay or an affordable option, we have something for everyone. All our packages include accommodation in well-appointed rooms, personal transportation, world-class facilities, and fresh meals. Our experienced guides will ensure you experience Calicut's culture from an insider's perspective.
Top Tourists Attractions to Visit through Calicut city tour packages
The list of places to visit in Calicut with our Calicut city tour packages are:
1. Kozhippara Falls
Stationed amidst the verdant Western Ghats, Kozhippara Falls offers a tranquil escape from the hustle and bustle of city life. The cascading waters of Kozhippara Falls gush down from a considerable height, forming a picturesque spectacle and creating a soothing mist in the air.
The surroundings are adorned with lush greenery and towering trees, providing a refreshing and rejuvenating ambiance. The falls also serve as an ideal destination for adventure enthusiasts, as the rugged terrain is perfect for trekking and rock climbing. Exploring the vicinity reveals a rich diversity of flora and fauna, adding to the appeal of Calicut's tourism landscape.
2. Beypore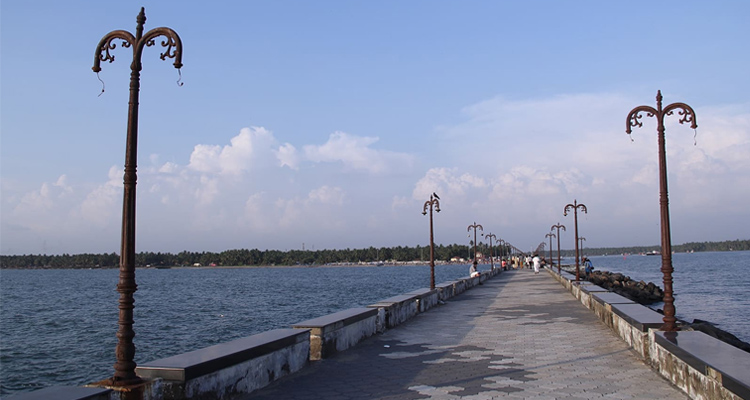 Beypore is a coastal town renowned for its historical significance and traditional craftsmanship. The ancient port town has a rich maritime heritage dating back centuries. Beypore is famous for its shipbuilding industry. It is known for the construction of traditional Arabian trading vessels called "Uru."
You can witness the craftsmanship of skilled artisans who meticulously construct massive wooden ships. They use traditional techniques handed down across generations. Beypore is also known for its pristine beach, where you can unwind and indulge in sightseeing, swimming, and fishing.
The presence of some rocky cliffs makes it an ideal spot to watch the sunset. Beypore's old fishing harbor, with its bustling activity and vibrant atmosphere, offers a glimpse into the local fishing community's way of life.
3. Thikkoti Lighthouse
Thikkoti Lighthouse is a historic landmark that stands tall as a beacon of maritime history. It was built in 1847 and is perched on a rocky headland overlooking the Arabian Sea. It serves as a navigational aid for ships and is a popular tourist attraction.
The lighthouse is an octagonal masonry tower that stands 40 meters tall and has a single lantern room. You can climb up the spiral staircase to the top of the lighthouse and enjoy panoramic views of the coastline and the vast expanse of the sea.
The surrounding area offers a serene setting, perfect for a leisurely stroll or a picnic by the beach. The Thikkoti Lighthouse is a must-visit destination for those seeking to admire the beauty of the coastal landscape.
4. Thusharagiri Fall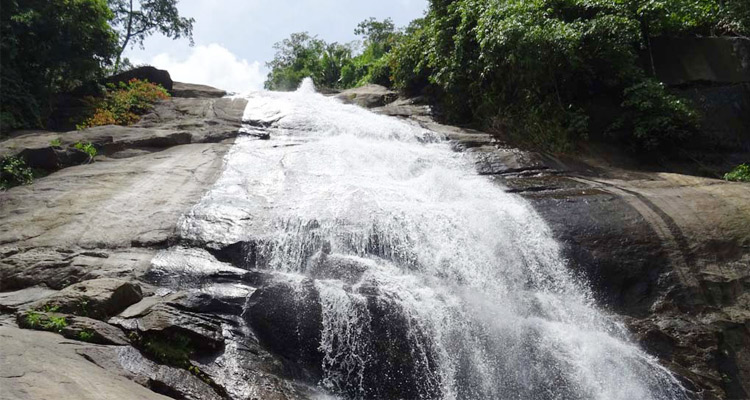 Thusharagiri Falls is a series of breathtaking waterfalls surrounded by lush greenery and serene landscapes. The name "Thusharagiri" translates to "snow-capped mountain" in the local language, owing to the milky white appearance of the cascading waters.
The closest set of falls are called Earattumukku, Thanni Muthassi, and Mazhavil Chattam Falls. Trekking enthusiasts are attracted to this place because it offers a unique trekking experience through dense forests, pristine streams, and challenging terrains.
The journey to the falls is an adventure in itself, with stunning views of the surrounding hills and valleys. You can indulge in activities like rock climbing and river rafting in the nearby Chalippuzha River.
5. Kakkayam
Kakkayam is a peaceful hill station located amidst the Western Ghats. It is well-known for its lush green forests, sparkling streams, and tranquil reservoir. The Kakkayam Dam, built across the Kakkayam River, forms the centerpiece of this scenic locale.
Kakkayam is a paradise for nature lovers and adventure seekers alike. You can enjoy boating and fishing in the reservoir, surrounded by the verdant hills and the soothing sound of cascading waterfalls.
It is also a popular trekking destination, with numerous trails leading through dense forests and offering breathtaking views of the surrounding valleys. The region is rich in biodiversity, making it a paradise for birdwatching and wildlife enthusiasts.
6. Beypore Beach
Beypore Beach, situated along the Arabian Sea at the end of river Chaliyar, is a calm and scenic stretch of coastline. It boasts long, picturesque shorelines lined with swaying palm trees and traditional fishing boats.
The tranquil atmosphere and captivating sunsets make it a perfect spot for relaxing and rejuvenation. Adventure enthusiasts can enjoy activities like boating and beach volleyball. At the same time, those seeking some relaxation can enjoy sunbathing on the white sand shores or simply stroll along its tranquil shoreline.
Apart from being a beautiful tourist destination, Beypore Beach also serves as an important fishing port in Kerala. It features a vibrant fish market, offering a glimpse into the bustling activity of the local fishing community. It is also known for producing handmade wooden Dhows, which are used for traditional fishing and transportation purposes.
7. Kadalundi Bird Sanctuary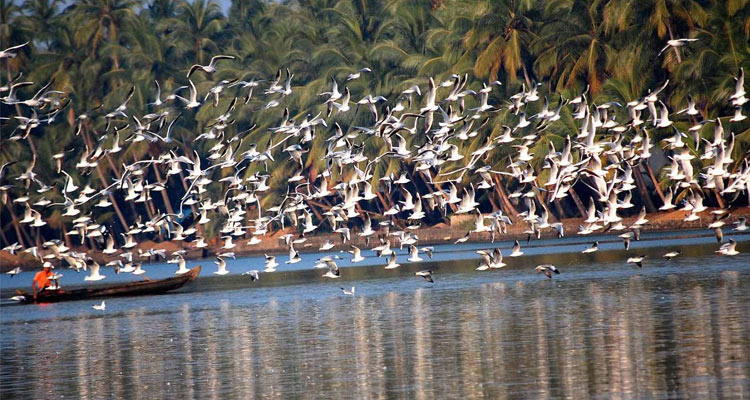 Kadalundi Bird Sanctuary is a paradise for bird enthusiasts and nature lovers. The sanctuary is spread over a cluster of islands formed by the Kadalundi River. It is home to a diverse range of bird species and attracts migratory birds from different parts of the world, making it a haven for birdwatching.
You can spot a wide variety of birds, including terns, gulls, sandpipers, and herons. The serene and tranquil surroundings of the sanctuary, comprising mangrove forests and wetlands, provide an ideal habitat for these feathered inhabitants.
The abundance of mangroves, lagoons, and estuarine ecosystems makes it a haven for aquatic life as well. Boat rides along the river offer a closer look at the birds in their natural habitat.
8. Kozhikode Beach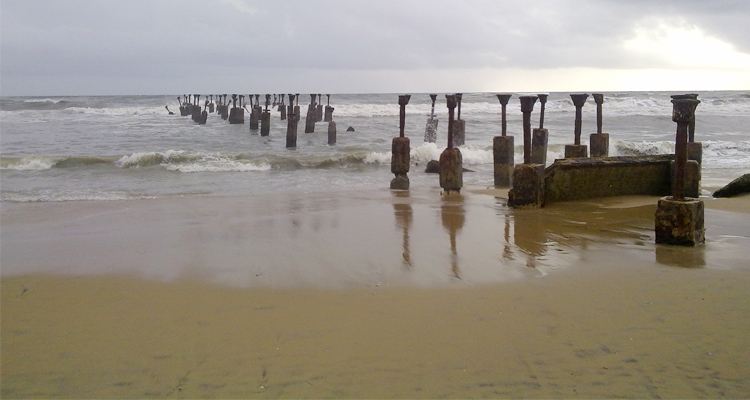 Nestled along the Arabian Sea, Kozhikode Beach is a popular coastal destination known for its natural beauty, historical landmarks, and lively atmosphere. With its sandy shores and swaying coconut trees, it offers a picturesque setting to relax and admire the tranquil ocean views.
The beach is renowned for its historical importance, housing iconic sites such as Dolphin's Point and the historic Kozhikode Lighthouse. The vibrant beachfront buzzes with various activities, from beachside dining and shopping at local stalls to engaging in thrilling water sports.
9. Backwaters
The backwaters of Calicut are a serene and enchanting network of beautiful waterways, including lagoons, canals, and lakes that wind through the scenic countryside. Exploring the backwaters on a houseboat is a popular choice, allowing you to enjoy the calm and peaceful surroundings fully.
Along the waterways, you can see lush greenery and coconut trees. As you cruise along, you can observe the colorful houseboats and local fishermen at work. Freshwater fish like Karimeen (Pearl Spot) are among the most sought-after catches.
You can explore the rustic villages and observe villagers going about their daily lives. Bird enthusiasts also get a chance to spot a wide variety of birds like herons, kingfishers, and egrets.
10. Mananchira Square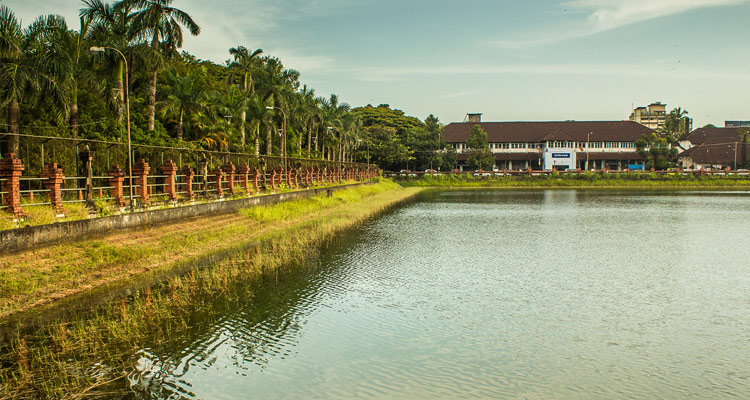 Mananchira Square is a vibrant and historic public square that serves as a popular gathering spot for locals and tourists alike. The square takes its name from Mananchira, a rectangular manmade pond surrounded by beautiful gardens.
The quiet ambiance and well-maintained pathways make it ideal for leisurely walks. It is also a cultural hub that hosts various cultural events, music concerts, and art exhibitions. The square is adorned with famous sculptures, like that of Jacek Tylicki.
His creation stands for spreading humanity and love by giving away things if you can and taking things if you need to. The place also has seating areas for visitors to relax and appreciate the interesting surroundings.
How To Reach Calicut
Calicut International Airport is located approximately 8 km from the heart of the city. It connects Calicut to many Indian cities and International destinations. Vellayil, Kozhikode Main, and Kallayi are the nearest railway stations to reach Calicut by train.
Bus and taxi services to Calicut are also readily available from different neighboring cities. There are direct buses from Goa, Mangalore, Chennai, and Bangalore. The state-owned KSRTC (Kerala State Road Transport Corporation) runs regular services connecting different districts within the state.