Athirappilly, the land of rivers, forests and great waterfalls is a stunningly beautiful tourist destination in God's Own Country. Athirappilly houses the largest waterfall in Kerala. Athirappilly waterfall situated at a distance of about 78 km from Kochi is one of the most visited destination in Kerala.
This waterfall in sholayar ranges is beautifully intertwined with lush green forest and silver cascades in between Kochi and River Nila. Athirappilly is a perfect place to visit during summer.
Athirappilly waterfall situated on Chalakudy River originates from the upper region of Western Ghats. Athirappilly is home for many endangered flora and fauna.
Athirappilly is the most popular summer destination. Another destination to visit is the Vazhachal waterfall. The twin waterfalls Athirappilly and Vazhachal are breathtakingly beautiful. The bewitching beauty of the falls is about 80 feet high amidst the green forest.
Combined with wild beauty of nature Athirappilly freshen our mind and soul. While waterfalls are the highlight of this place there is also some other attractions around Athirappilly.
Places to Visit in Athirappilly
1. Thumboormuzhy Gardens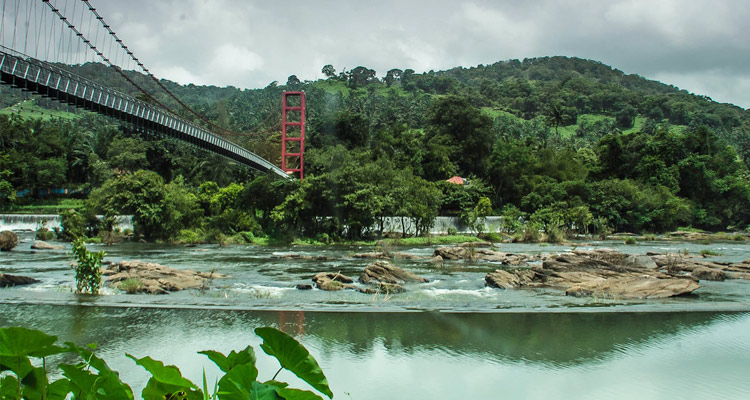 Thumboormuzhy Garden is a beautifully landscaped butterfly garden across Chalakudy River. This butterfly garden in the forest area have about 148 varieties of butterflies. Some of the butterflies that can generally be seen in the garden include lemon butterfly, southern birdwing, common rose, light blue tiger, dark blue tiger and common crow. The garden situated on the Athirappilly road have a coffee shop.
2. Amusement Parks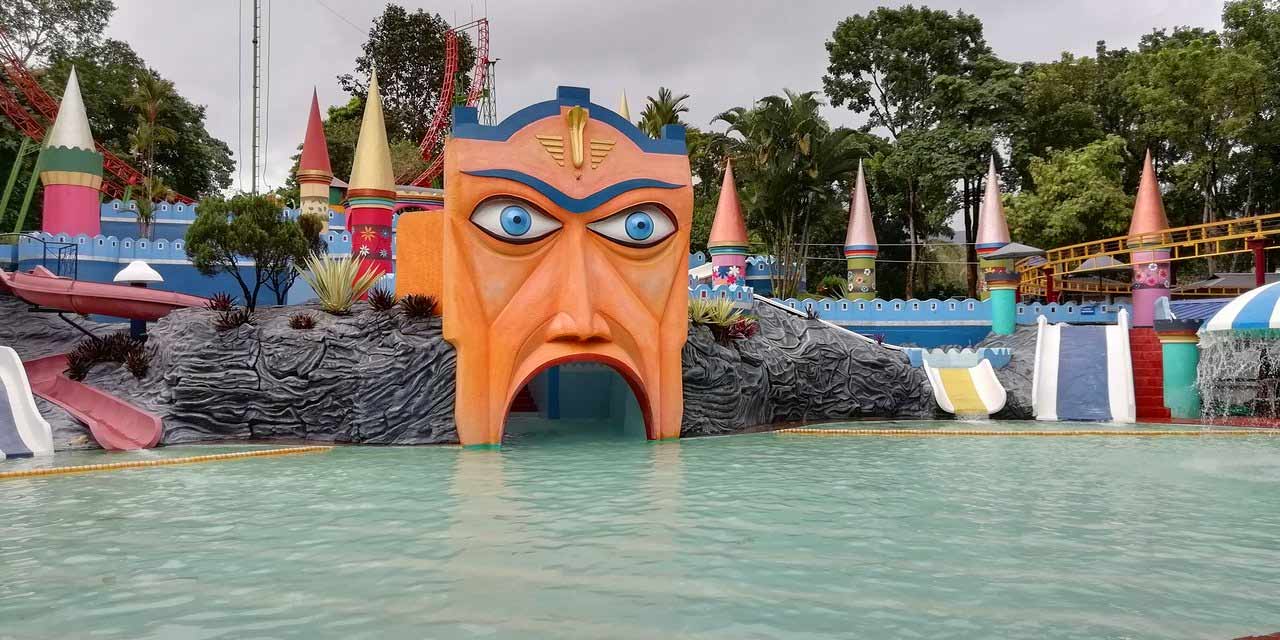 There are two amusement parks located to the west of Athirappilly. They are Dream World Water Park and Silver Storm Water Theme park. Dreamworld water park is at a distance of 24 km from Athirappilly on SH 21. There are many interesting water games and pools. Silver Storm Water Theme Park is just 9 km from Athirappilly. It has many slides, pools and games.
3. Athirappilly Waterfalls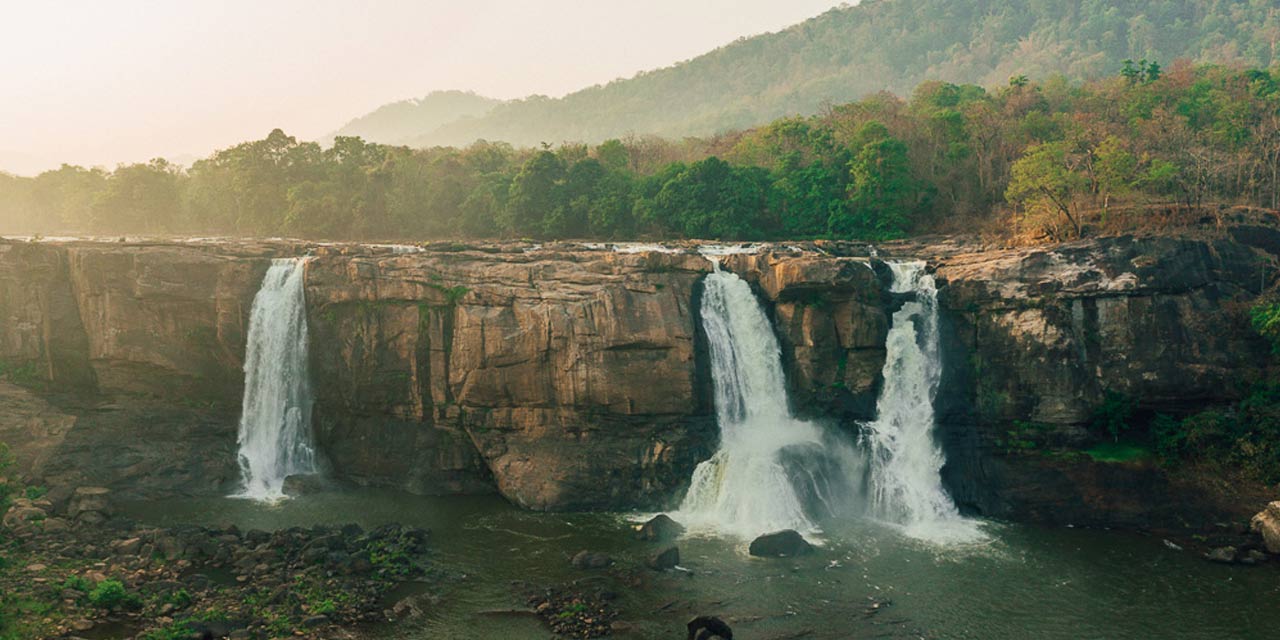 Athirappilly Waterfalls located 78 kms from Kochi at the entrance to Sholayar ranges is a popular picnic spot. Athirappilly joints to the Chalakudy river after plummeting a drop of 80 feet.
The wilderness of the cool misty waterfall among the thick green forest is an amazing sight. The tranquility and the soothing sound of the waterfall calm yourself. This is a perfect place to spend time away from the tensions and worries of life.
4. Vazhachal Waterfalls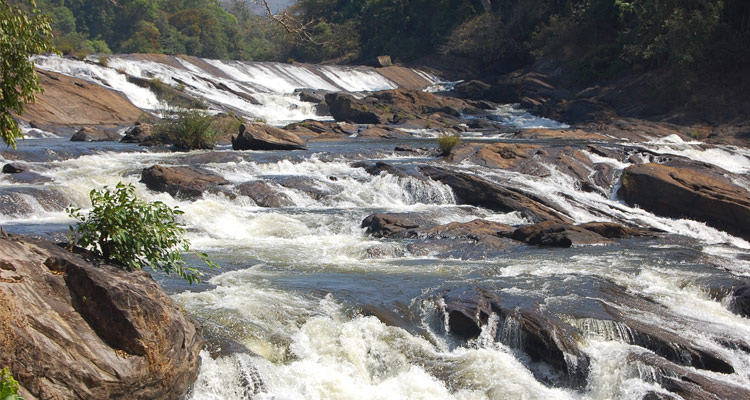 Just a short drive from Athirappilly is Vazhachal waterfall. Located at the entrance of Sholayar ranges among the thick green forest this waterfall has a special charm. Starting calmly from the high ranges, and crashing through the lush greenery of forest this waterfall is an ideal place to relax.
The picturesque beauty of vazhachal waterfall is a part of Chalakudy River. Near the waterfall is a medicinal Herb plants with so many medicinal plants which can cure arthritis, skin disease and blood pressure. There is a small canteen close to the fall.
Shopping in Athirappilly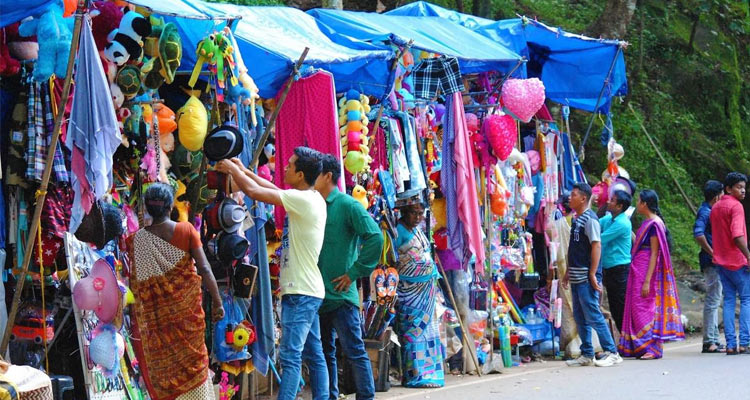 There are no great shopping malls in Athirappilly but in the roadside stalls you will get packets of wild honey. Around the waterfalls you can find vendors selling bamboo wall hangings and hats. Moolika Vanitha Swasraya Samithi near Vazhachal waterfalls is the best place to buy herbs, honey and herbal shops.
Where To Stay in Athirappilly
There are some good hotels around Athirappilly providing a comfortable stay. Some of the best staying options are Rainforest Resort, Riverok Villas, Richmond Cascade, Spring Valley Holiday Home, Ecogreen Homestay and Pleasant Residency.
Places to Eat in Athirappilly
The best option to eat is the hotel where you are staying. You will get both vegetarian and non vegetarian in these hotels. Some places offer multi cuisine dishes too. Some of the best places to dine are Sangam Restaurant at Riverok, Green Valley Motels and Richmond Cascade.