Kottayam is a wonderful district in Central Kerala bordered by the lofty Western Ghats on the east and the Vembanad Lake and paddy fields of Kuttanad on the west. Kuttanad is blessed with serene backwater stretches, lush paddy fields, hills and hillocks, rubber plantations and many more attractions.
Kottayam an important trading center of spices and commercial crops, especially rubber is also the first place to achieve 100% literacy in Kerala. This place has wonderful culture. The renowned tourist places in Kottayam attracts thousands of tourists every year to this place.
The main tourist places in and around Kottayam are Kumarakom the backwaters and bird sanctuary, Ilaveezha poonchira, a hill station near Melukavumattom , Poonjar Palace, Vagamon, Vennimala the hill of victory, and Pallam backwaters.
Also there are Aruvikkuzhi waterfalls, Matrumala, Kallara, Vazhikkadavu, Kurisumala, Bharananganam, Pathiramanal, Pala, Kanjirapally and The Driftwood Museum. The significant attractions in Kottayam are waterfalls and backwater destinations.
Kottayam with a vast network of canals and waterways hosts so many boat races. Festive seasons are the time of boat races. The hill stations in Kottayam is also popular.
Vagamon, and Elaveezhapoonchira are the beautiful hill stations in Kottayam. Kottayam is a place with so many famous temples and churches. This is one of the famous pilgrimage centres in Kerala.
Places to Visit in Kottayam
1. Ilaveezhapoonchira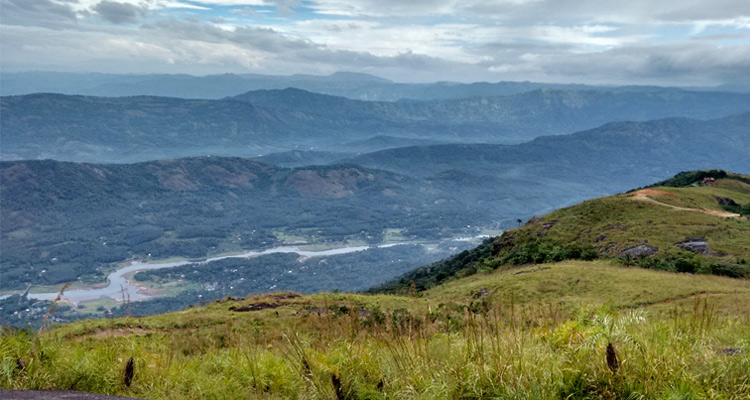 Ilaveezhapoonchira is a wonderful picnic spot situated in the midst of the fabulous hillocks. This spot Situated at distance of 55 kms from Kottayam is one of the most excellent places in Kerala to witness the sunrise and sunset. The velvet valleys of Ilaveezhapoonchira spreads across thousands of acres.
Three enchanting hillocks Mannakunnu, Kodayathoormal and Thonippara, surrounds this place. Ilaveezhapoonchira is an attractive place for adventure lovers. The three hillocks make it an ideal place for trekking.
The green landscape punctuated by four gigantic hills is a perfect place to relax. The hills here rising to about 3200 feet above sea level. Monsoon add an elegant charm to this place. During the monsoons the valleys fill up to form a scenic lake. Enjoy this natural wonder.
2. Poonjar Palace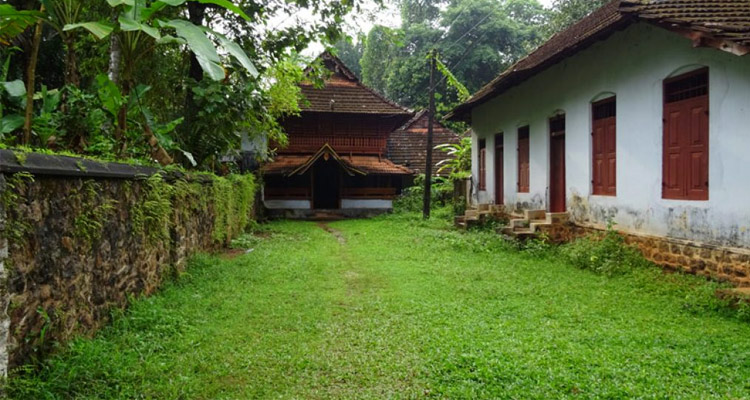 Poonjar palace, a wonderful palace situated at Poonjar in Kottayam district reflects the rich cultural heritage of Kerala. This palace tells us about the glorious past of Bygone era. This six hundred year old magnificent palace is also famous for its wonderful architecture. The palace made almost entirely of wood is a typical example of Traditional Kerala architecture.
There is a museum in palace featuring royal collection of antiques, rock cut lamps, sculptures, furnitures like a Palanquin, a droni carved from single wood piece, chandeliers, Palm leaf engravings, jewel boxes, varieties of lamps, sculptures of Nataraja (the dancing Shiva), grain measures, statues and weapons.
Close to the Poonjar palace there is an amazing replica of the famous Madurai Meenakshi Temple in the neighbouring state of Tamilnadu. The most fascinating thing here is the chuttuvilakku (row of lamps) carved out of the stone walls of the nearby Sastha temple. The temple walls bear sculptures that narrate stories from the puranas (the epics of ancient India).
The members of royal family of Poonjar Palace are known as Rajas. Visiting this palace will be an amazing experience for one and all.
3. Aruvikkuzhi Waterfalls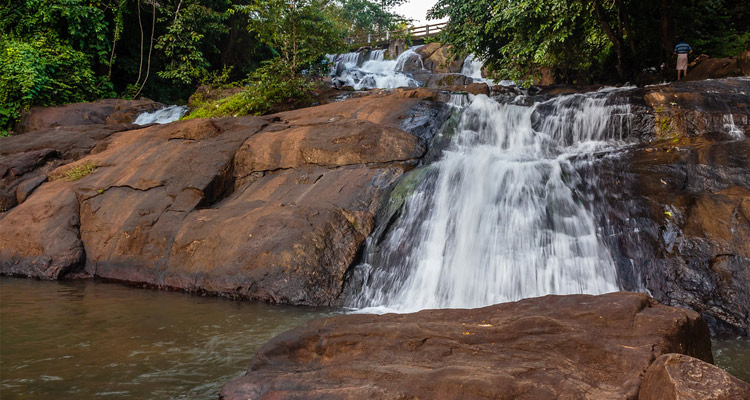 Aruvikkuzhi waterfall is an exhilarating waterfall located 18 km from Kottayam town. Aruvikkuzhi waterfalls is one of the most beautiful picnic spot in Kottayam. It's amazing to be here with the roaring sound of water as they cascade down the mountains till they drop down a height of 100ft.
The cool and refreshing atmosphere in here is soul touching. Aruvikkuzhi is really beautiful surrounded by rubber plantations. The visitors can take rest under the shade of this . There is a church near the waterfalls. Maramala Waterfalls is another attraction nearby this falls.
4. Matrumala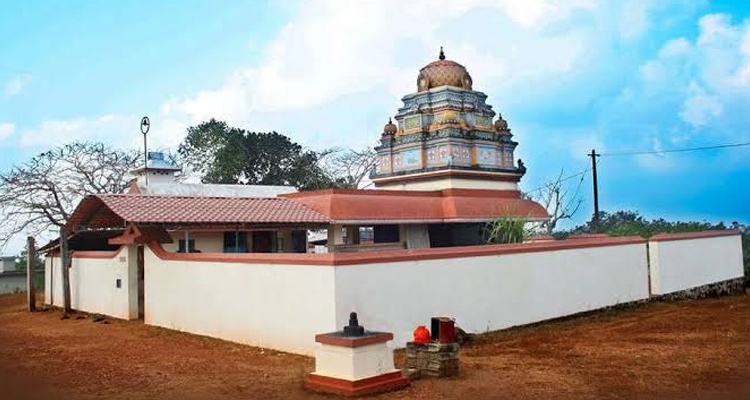 Matrumala is a scenic hilltop that offers stunning views of the entire surroundings. Matrumala is located in Kooroppada village and is about 8 km from Vennimala. The place can be accessed easily from Kottayam through Pampady.
The place got its name as it has a small temple dedicated to Goddess which is believed to have been built by Parasurama the creator of Kerala. The temple located on its top is an amazing sight.
5. Kallara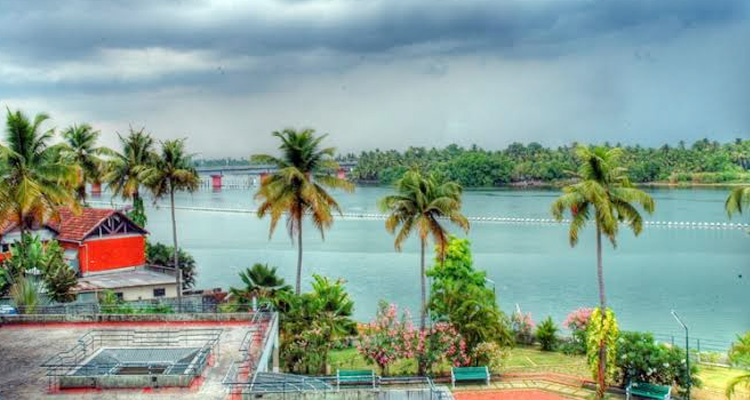 Kallara is a bizarre little village located about 20 km northwest of Kottayam town. Kallara and the neighboring villages of Kaduthuruthy and Thalayolaparambu are famous for the unending stretches of lush green paddy fields crisscrossed by numerous canals. This canals into the backwaters of Ezhumanthuruthu and fall into Vembanad lake. In ancient days these were ways of transport.
The unique attraction here is the concentration of screw pine product making in this little village. The screw pine plants grow in abundance on the side of canals and waterways. From these make beautiful handcrafted materials.
Popular screw pine Products are table mats, purse, file holders, mirrors, chapels, waste box, cushions, hats, kitchen pouches, decoration items etc. Kallara is also famous for bamboo products, rubber wood items and wood products. The place can be easily accessed from Kottayam by road as well as rail.
6. Kurisumala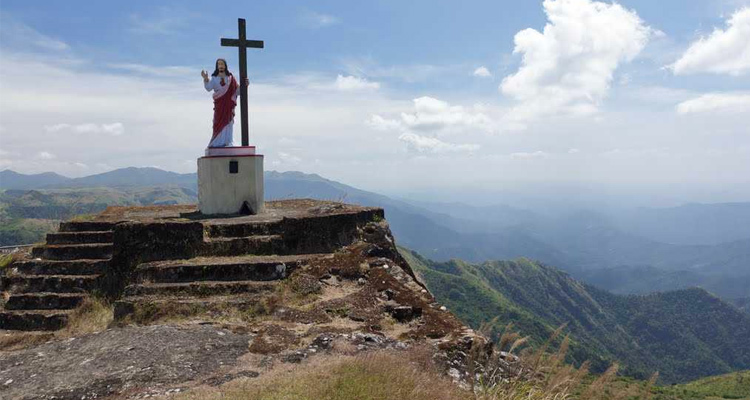 Kurisumala is a renowned Christian pilgrim centre in Kottayam district. Hundreds of devotees from far and near converge during the holy week and after, to climb the hill in faith, carrying small wooden crosses.
This peaceful Monastery located at the top of the hill is really soul touching with the silence of the hills, the cool touch mountain air and the greenery of landscape. On the eastern side of the hill is Murugan Mala housing a rock cut temple dedicated to Murugan (son of Lord Shiva).
7. Bharananganam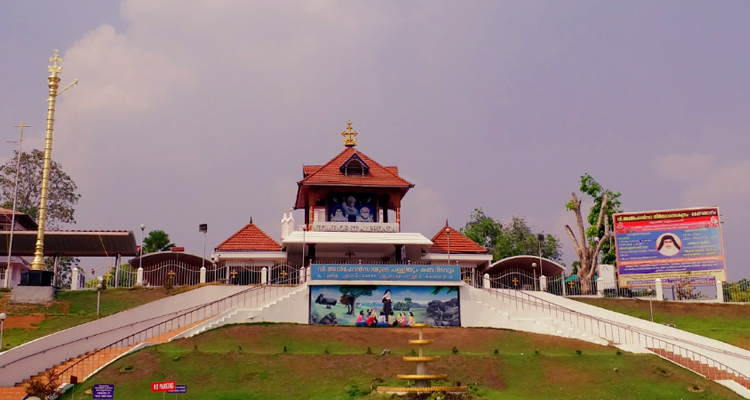 Bharananganam is an important pilgrimage center for the Christians. It is located next to the thousand years old St. Mary's Church. The church is a well-carved cavern of Virgin Mary.
8. Vazhikkadavu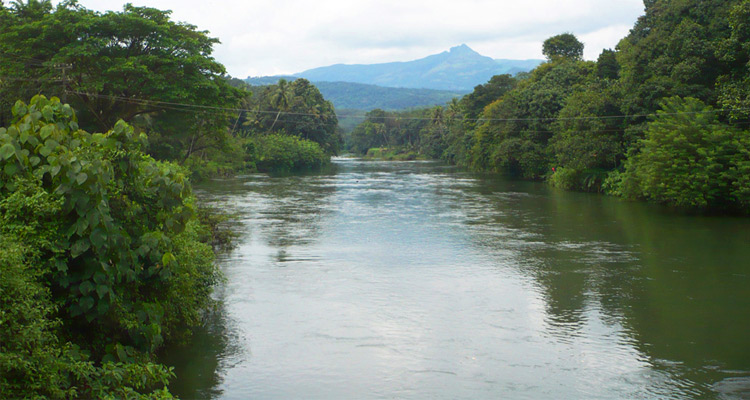 Vazhikkadavu is an enchanting hill station in Kottayam. This hill station of rocky terrains is situated on the outskirts of the district. On one side of the main rock are extremely tall and steep rocks and on the other is a valley of fearful depth.
This wonderful landscape is bordered by Meenachil River During the months of December/January the landscape look beautiful covered with orchids and wildflowers. Vazhikkadavu is an amazing place to visit.
9. Pathiramanal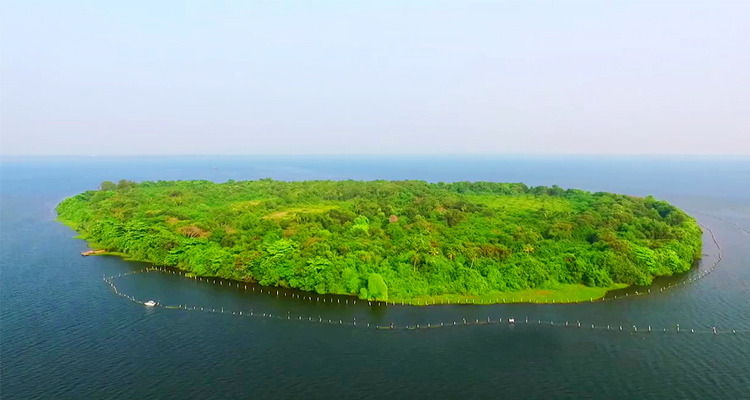 Pathiramanal is a small island that is easily accessible through the water way. The journey to this wonderful island itself is an exhilarating one. Located near Vembanad Lake in Kottayam district Pathiramanal is also called 'Sands of Night'. You will be amused by the sight of natural beauty. The island is home to some rare varieties of migratory birds making it a bird watcher's paradise.
10. The Driftwood Museum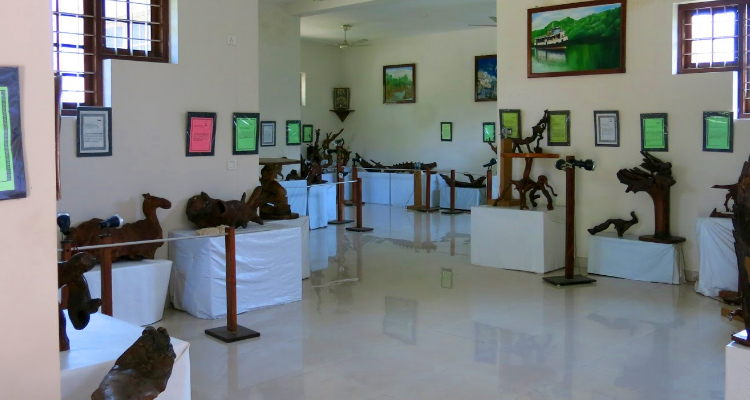 Driftwood museum holds an enormous collection of driftwood sculptures collected from the islands of Andaman and Nicobar. The works displayed here shows the artistic excellence and hard work of past generations. This place holds a huge collection of root sculptures of various shapes and designs.
The most attractive driftwood sculptures exhibited here are a tribal Jarva women, a handicapped family, Monkey, Lion, and Elephant. Sculptures depicting the Kargil War, fought between India and Pakistan is found here. This museum is the only one of its kind in the country. There is an amazing collection of flowers and buds in here.
11. Vennimala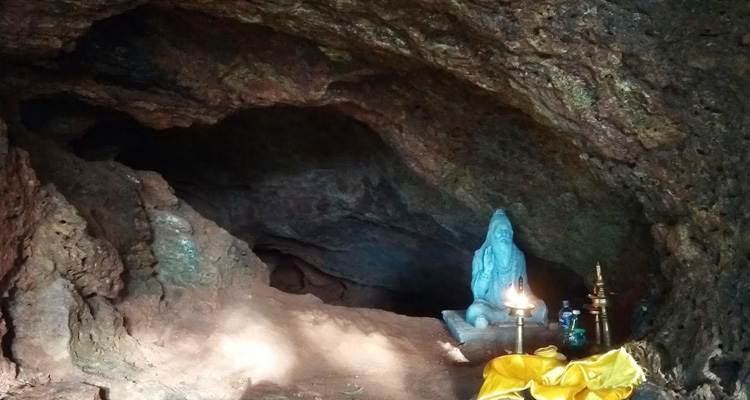 Vennimala is a serene and beautiful place located in the Puthuppally village of Kottayam district. The name means 'hill of victory' as Lakshmana won the battle with demons in this hill. In ancient days Vennimala was a dense forest.
It is believed that Lord Rama and Lakshmana during their period of exile visited this hillside. At that time numerous sages meditated in the caves of Vennimala. Upon the request of the sages Lakshmana killed many demons that were a threat and nuisance to the sages. Thus the place came to be called 'Vijayadri' in Sanskrit. Vijayadri in Malayalam became Vennimala.
During Medieval ages Vennimala was inhabited by tribal communities especially Malayarayars. Cheraman Perumal, the illustrated emperor of ancient Kerala consecrated this ancient temple here. He was impressed by the beauty of this place so he stayed here and built a palace. He is the ruler who designated the hill as a sacred and protected place.
12. Pala and Kanjirappally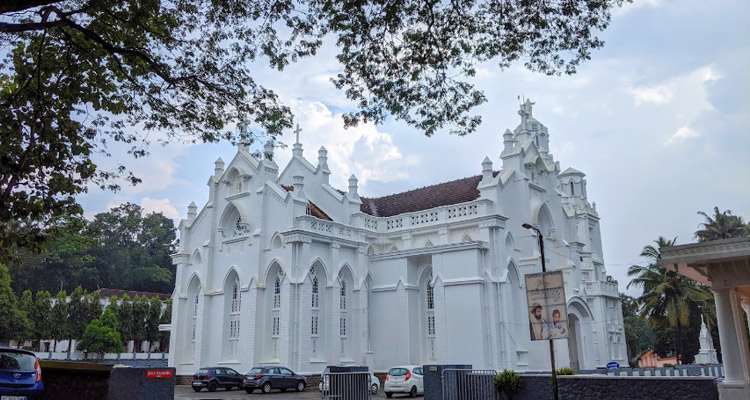 Pala and Kanjirappally nourished by the two rivers Meenachil and Manimala are two popular places in Kottayam. These two towns are centres of rubber plantations.
13. Vagamon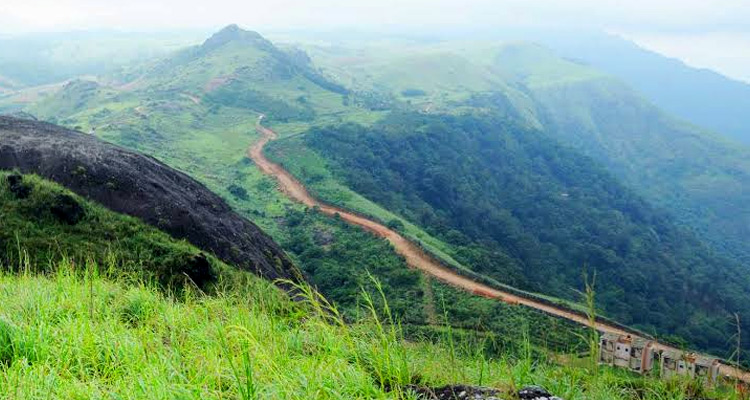 Vagamon, an enchanting hill station in Kerala situated 64 km from Pala is at an elevation of 1100 meter above sea level. Grass covered hills, deep valleys, beautiful meadows and the green tea plantations made it an ideal tourist spot. The tranquility and the cool climate of the place draws thousands of tourists to this hill region. Vagamon is a mark of religious harmony..
14. Kumarakom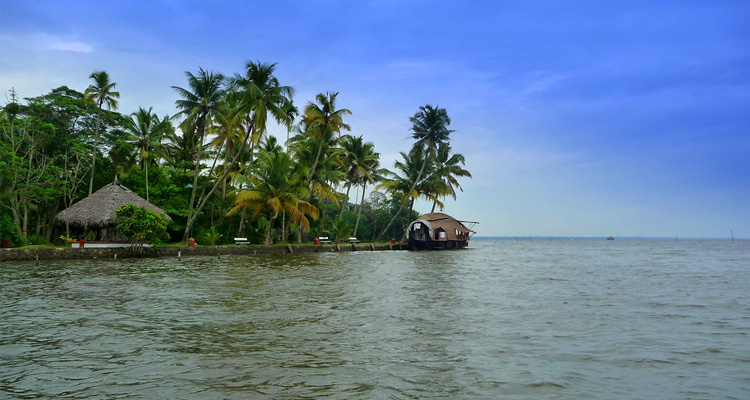 Kumarakom is a cluster of little islands blessed with natural beauty and bliss. This stunningly beautiful land located on the Vembanad lake is dotted with plenty of traditional rice boats and canoes. Kumarakom offers you entertainment options like boating, fishing etc. It's an ideal summer destination.
The prime attraction of Kumarakom is the backwaters. The heavenly beauty of blue backwaters and Houseboats in Kumarakom draws thousands of tourists from different part of the world. A traditional house boat cruise on the blue backwaters is the best way to explore the wonderful rural and marine life.
Apart from backwaters another popular attraction in Kumarakom is the bird sanctuary. The Kumarakom Bird Sanctuary spreads across 14 acres houses exotic birds and plants.
A cruise along the lake will give you the amazing opportunity to witness the beautiful sight of rare migratory birds. The breathtaking beauty of green vegetation and blue backwaters made this an ideal tourist place. Kumarakom also offers enlightening experiences of Ayurvedic massage, fishing and bird watching.