Kollam otherwise called as the Cashew Town is situated in the southwest corner of India in Kerala. Kollam has an eventful past. Kollam was an international emporium of trade. So many foreign travellers and traders visited Kollam. It was an early centre of Christian activity in Kerala.
Kollam is encircled by Alappuzha in the north, Thiruvananthapuram in the south, Tirunelveli (Tamil Nadu) in the east, and the Arabian Sea in the west. Kollam is the fourth largest city in Kerala. Kollam has some of the beautiful backwaters in Kerala.
Famous Ashtamudi lake is situated in Kollam district. The 144 ft. Thangassery Light House is a centre of attraction. There are many churches and mosques in Kollam. The Pullichira Church, Chinnakkada Palli which is one of the oldest and most important Mosques are the most popular among them.
The Anandavalleswaram Temple here is a major spot of devotees. Mahatma Gandhi beach & park, Thirumullavaram beach and Ashramam picnic Village, are some other attractions in here. Kollam is also blessed with wonderful beaches.
The Adventure Park located at the shores of Ashtamudi lake is the most popular attraction in Kollam.
Places to Visit in Kollam
1. Sasthamcotta Lake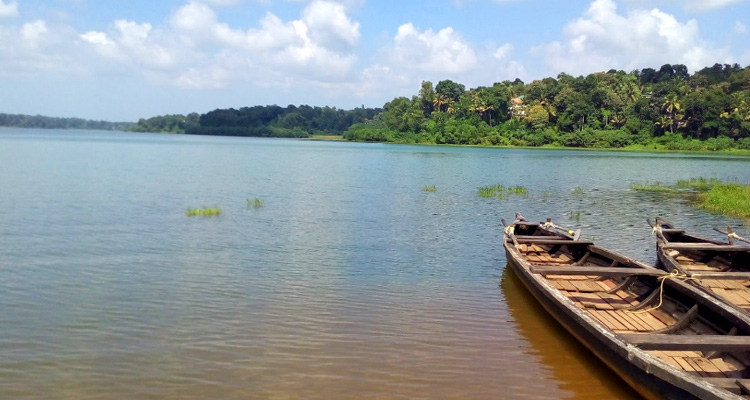 Sasthamcotta is a beautiful village situated about 19 km from Kollam Town. It is a centre of attraction and one of the most visited places in Kollam. It is a wonderful spot and pilgrimage centre and also has a health resort in here. Sasthamkotta lake is the biggest freshwater lake in Kerala. Sasthamcotta can also be called as Queen of Lakes.
This lake is surrounded by hills on all sides except south where a bund has been constructed separating the lake from the neighbouring rice fields. A major part of the lake has been reclaimed for agriculture. The source of water is from the underground sprouts.
2. Thangassery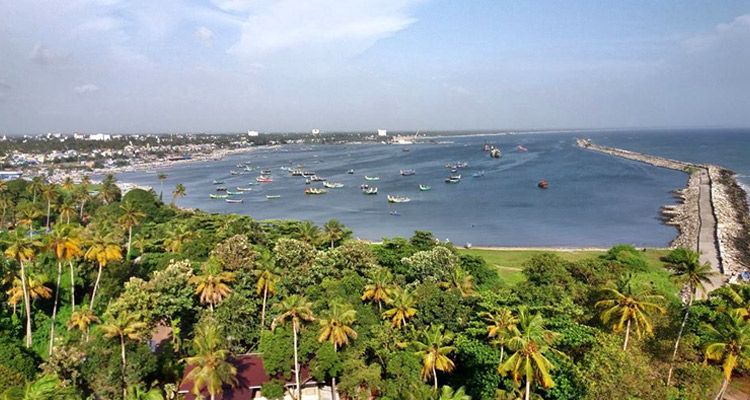 Thangassery is a historically important place situated 5 km away from Kollam town. The main attraction of this place is the lighthouse. This light house is 144 ft. tall and stands as a sentinel, warning seamen of the treacherous reefs of Thangassery.
This renowned lighthouse is built in the year 1902. There are so many ancient pretty churches here which have been established in eighteenth century.
Thangassery has a glorious past this was a popular enclave of the Portuguese, Dutch and British in succession. In here you can still see the remnants of the Portuguese and Dutch forts. The construction of a fishing harbour is in here.
3. Palaruvi Waterfalls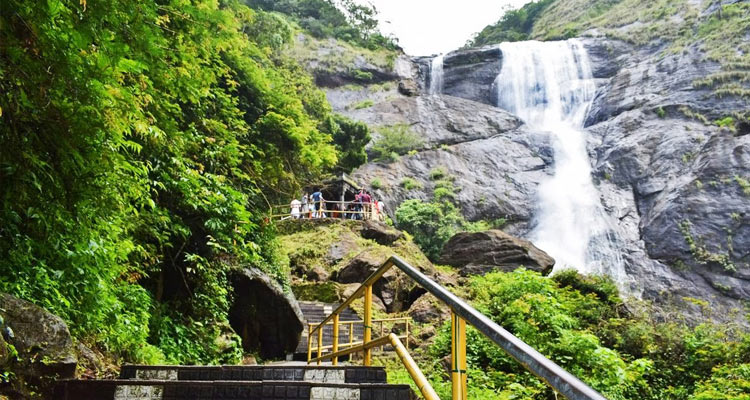 Palaruvi waterfall is a stunningly beautiful waterfalls in Kollam. The word Palaruvi means 'Stream of Milk'. There are so many peculiarities about this waterfall. There are ruins of ancient temples in here.
This waterfall is unique.The water in Palaruvi is said to be medicated and is preventive against many diseases. Water cascading down at a height of 300 feet across the Rocky Mountains is an amazing sight.
4. Punalur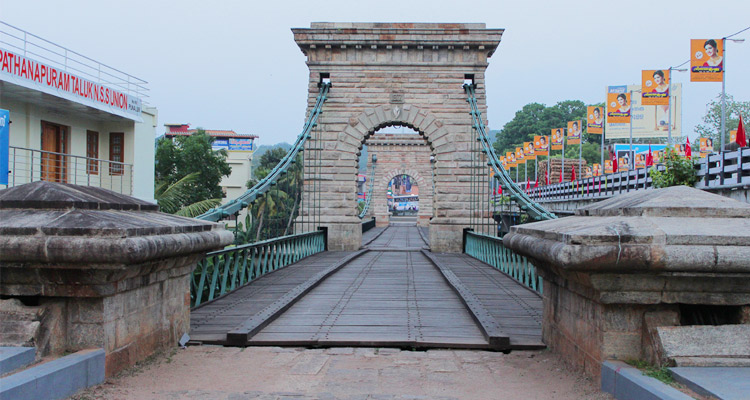 Punalur situated at a distance of 45 km from Kollam town is one among the important industrial centres of Kerala. The Suspension bridge of 400 feet long across the Kallada river is the only one of its kind in south India.
This bridge is an archaeological wonder. A concrete bridge has been constructed near this bridge now. Punalur is the headQuarters of Pathanapuram Taluk.
5. Thenmala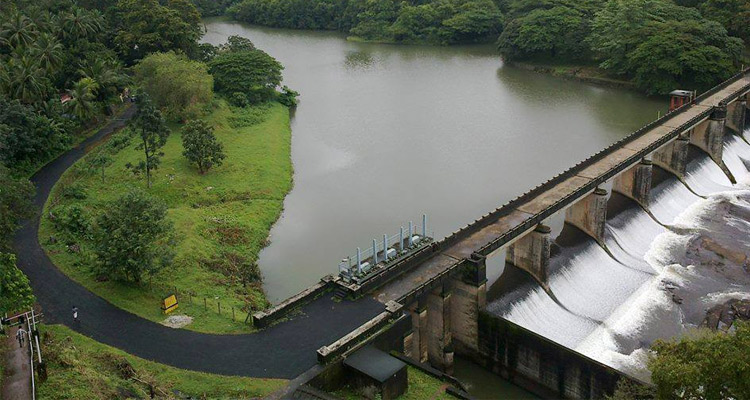 Thenmala, a centre of rubber and tea plantations is surrounded by dense forest. The most popular attraction in here is the Dam. Thenmala Dam site draws the attraction of thousands of tourists every year. There is also an Eco tourists center in Thenmala.
Thenmala is situated 66 km away from Kollam town. It is the meeting point of Kollam-Shenkottai road and Trivandrum-Shenkottai road. Timber of all varieties are exported from here to all parts of the country. This place is well connected with road and railway.
6. Oachira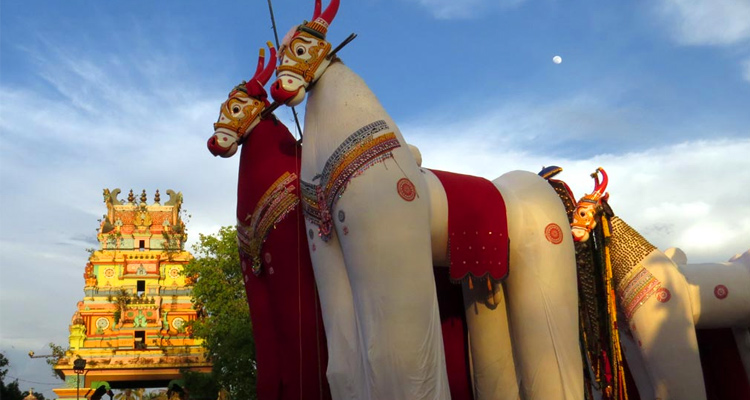 Oachira is a unique pilgrim center in Kollam district. The peculiarity of the temple here is that there is no temple building as such nor is any idol. People from all classes of society come here and worship the presiding deity the parabrahmam.
Oachira Kala, a festival held annually in June is most famous in here and thousands of people from different part of the state come here. Oachira is also an important handicraft center. The fancy articles of screw pine mats manufactured here are very famous.
7. Achencoil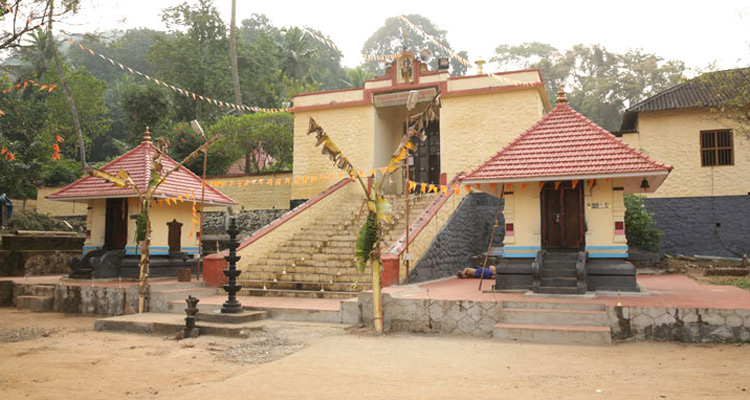 Achencoil is an important pilgrim center situated in Kollam. This place is famous for the Sastha temple which is situated amidst the dense forests. The two important festivals of this temple are Mandala Pooja (December-January) and the festival held at 'Revathi'(January-February). Therotam (chariot festival) and Pushpabhishekam (offering of flowers) during these festivals are famous.
8. Ashtamudi Lake
Ashtamudi lake, the second largest and deepest ecosystem in India is situated in Kollam district. This palm shaped extensive water body with eight prominent arms is well known for its magnificent landscape views. This lake is the gateway to the backwaters of Kerala.
Along the banks of lake you can see the waving palm trees, green paddy fields, the simplicity of village life colourful exotic birds and so many other sights. There is an adventure park located at the Taking a houseboat cruise through this backwaters will definitely be a refreshing experience.
Make your holiday a wonderful experience in the natural beauty of this small beautiful town.