Idukki the landlocked hill district in Western Ghat is a place blessed with beauty and tranquility. Idukki one of Kerala's nature rich areas with the land of massive mountains, green valleys and splendid streams located in the southern portion of Kerala is a paradise of nature and animal lovers.
Idukki is among the most visited places in Kerala with misty hills and valleys covered with the greenery of spice plantations, wildlife sanctuaries and stunning waterfalls. The virgin charm of Idukki is irresistible.
Apart from the scenic beauty this place offers adventure tourism. It's the best place for trekking and hiking. Mountain trekking in Idukki is very popular. High ranges and wooded valleys of Idukki is girded by three main rivers in Kerala - Periyar, Thalayar, Thodupuzha - and their tributaries. The great River Pamba also has its origin in Idukki. Elephant rides is a speciality of Idukki.
Places to Visit in Idukki
The journey to Idukki itself is an exciting experience. There are 12 hairpin bends on this stretch. There is a well in the middle of the road near the fifth hairpin bend. Every sight in Idukki is attractive. From waterfalls to reservoirs, wildlife sanctuaries to religious centres each and every spot is a different experience.
The most popular destinations in Kerala like Munnar, Thekkady and Peerumedu are located in Idukki district.
Munnar an enchanting hill station with enclosed calm of serenity and beauty draws thousands of tourists from different parts of the world. This heavenly beautiful hill station of Kerala situated at an altitude of about 1600 meter from the sea level was once the summer resort of British government in South India. The colonial Bungalows in Munnar reflects the glorious past of the place.
The pleasant climate and the laid back attitude of the hills made it an ideal holiday spot. The cool climate and the romantic ambiance of Munnar made it one of the most preferred honeymoon destination in South India. Munnar lies at Idukki district in the confluence of three rivers Muthirapuzha, Nallathanni and Kundala.
The valleys in Munnar covered with coffee, tea and spice plantations, the mountain streams, wide variety of flora and fauna is a delight to watch. Neelakurinji flower one of the rarest and most beautiful flower which blooms once in twelve years is found here. When it blooms it covers the entire region with its beautiful violet colour.
Some of the must visit places in and around Munnar include Eravikulam National Park, Pothamedu, Mattupetty, Devikulam, Pallivasal, Chinnakanal, Tea Museum, Attukal etc.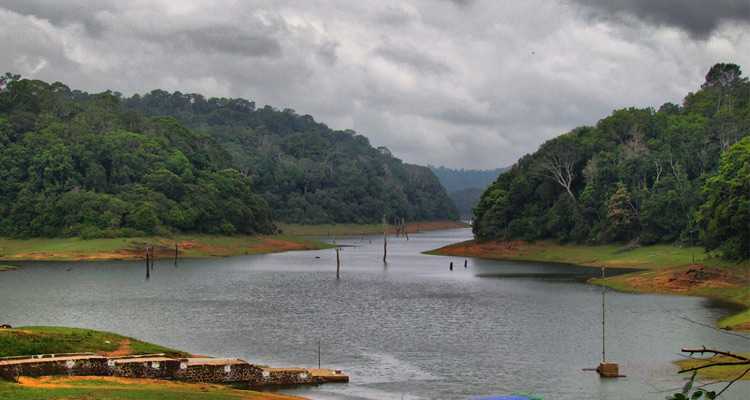 Thekkady is a naturally beautiful land located on Idukki district of Kerala. It's a place full of surprises. Nature has blessed this place with all beautiful attractions. You will be amused by the scenic spots, clear waterways and the peaceful ambiance of Thekkady. A walk through the spice scented plantations of Thekkady enjoying the green valleys and the chilling weather will be an unforgettable experience.
One unique thing about Thekkady is that this is the only place where you can witness wildlife in close quarters. Thekkady is one of the finest natural wildlife reserve in the world. You can see large herd of elephants playing in the lake, tigers and so many other animals and birds in Thekkady. Thekkady is an ideal place for adventure tourism.
3. Ilaveezhapoonchira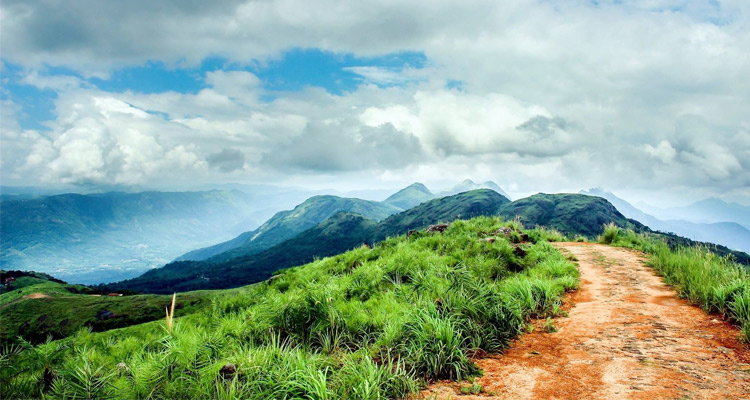 Ilaveezhapoonchira situated atop Kudayathoor Mala is one of the most excellent places in Idukki district of Kerala to witness the sunrise and sunset. Ilaveezhapoonchira literally means pond of flowers atop a hill where no leaves fall. This is true as there is no trees around and only green grassland. This is a wonderful picnic spot situated in the midst of the fabulous hillocks.
The velvet valleys of Ilaveezhapoonchira spreads across thousands of acres.The green landscape punctuated by gigantic hills with enclosed calm and serenity is an ideal place to relax. This beautiful spot is surrounded by three enchanting hillocks Mannakunnu, Kodayathoormala and Thonippara.
Ilaveezhapoonchira is famous among adventure lovers. The three hillocks make it an ideal place for trekking. This hamlet is among the highest peaks in Kerala. The Kudayathoor Mala rises 3680 feet high. Monsoon add an elegant charm to this place. During the monsoons the valleys fill up to form a scenic lake.
4. Malankara Dam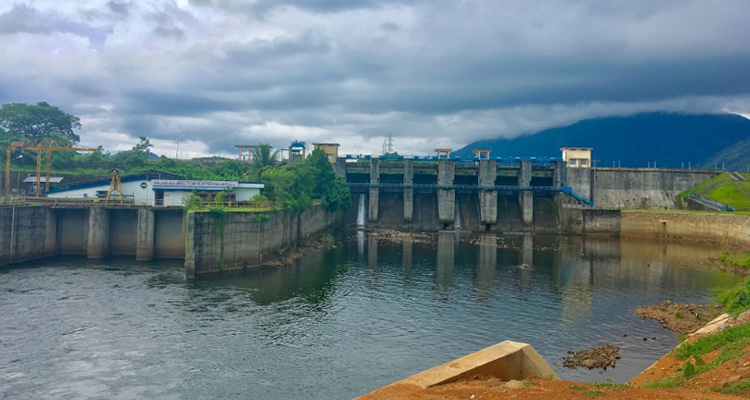 Malankara Reservoir is an artificial lake on the Moolamattom - Idukki route. Spread over an area of 11 km the reservoir is a popular picnic spot. The buses on this route stop here at the dam entrance for the visitors to enjoy the view of the catchment area and green surrounds.
5. Kurusha Para
The Hillock of Kurusha Para, a steep climb about 2685 feet above is a stunning beauty which offers breathtaking view of the Malankara Reservoir and the plantations around. The journey to this place through windy roads and hilly areas itself is a thrilling experience.
6. Chinnar Wildlife Sanctuary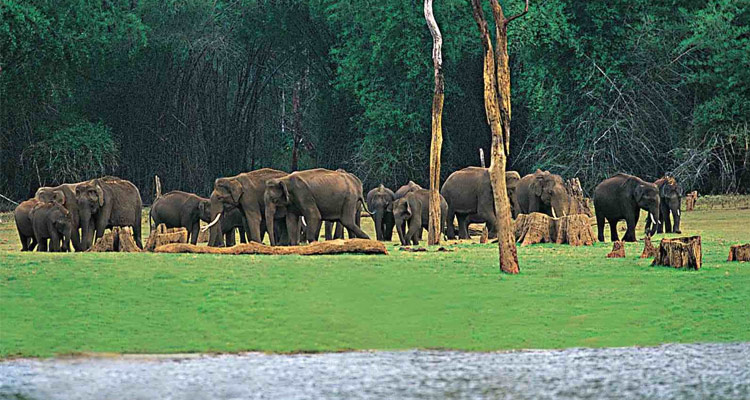 Chinnar Wildlife Sanctuary is an important destination in Idukki. Unlike other wildlife sanctuaries of Kerala Chinner gets barely scanty rainfall every year. This sanctuary is a distinct thorny scrub forest, consisting of several xerophytes species.
Chinnar is also a famous dwelling of the country's endangered Giant Grizzled Squirrel. This sanctuary also offers you the sight of elephants, spotted deer, sambar, hanuman monkeys, and more. This sanctuary will be an unforgettable experience for all.
7. Peerumedu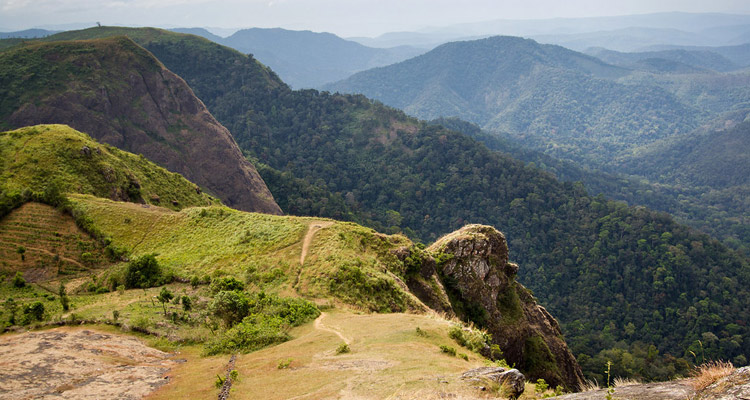 Peerumedu is a small beautiful hill station, snuggled at an altitude of 914 m above sea level, on way to Thekkady. This famous plantation town is rich with Coffee, tea, pepper, cardamom and rubber.
Peerumedu is the most fertile and wonderful part of Western Ghat. The stunning waterfalls and verdant grasslands in Peerumedu attracts so many tourists to this part of Idukki. This cool wonderful land is an amazing sight to visit.
8. Hill View Park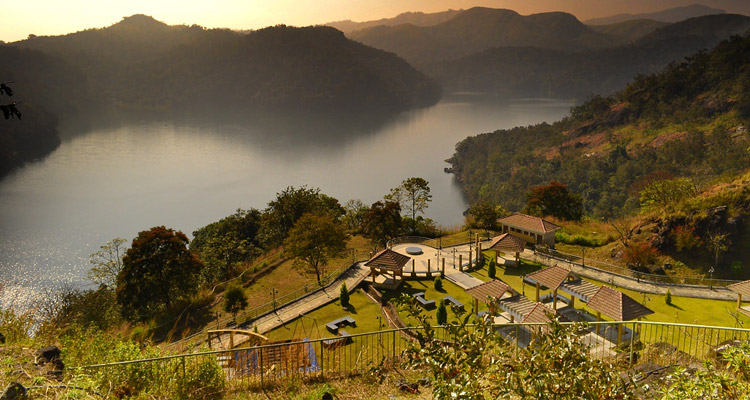 As the name suggests the sight from this park explores a vast area of the beautiful land unlike from any high mountain park. Spread over an area of 8 acres of land this beautifully designed park has a natural water body at the hilltop.
One can also see Wild elephants in their natural habitat. This park is situated close to Idukki Arch Dam and Cheruthoni Dam. The park has a herbal garden and children's play area. You can enjoy pedal boating facility in Hill View Park.
9. Idukki Wildlife Sanctuary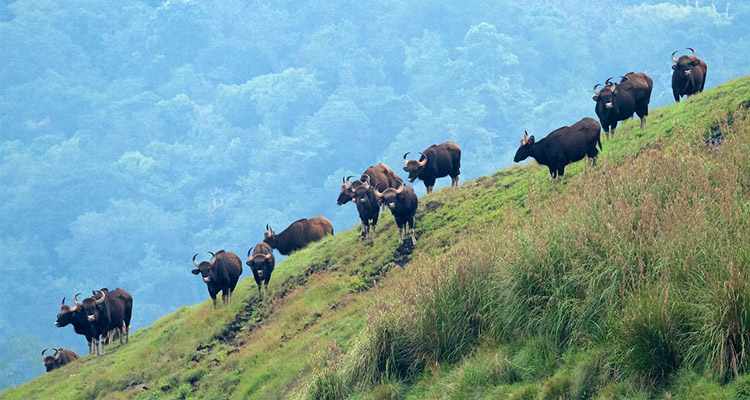 Idukki Wildlife Sanctuary spreads over an area of more than 77 sq km is about 450-748 m above sea level. This wildlife sanctuary spreads over Thodupuzha and Udumbanchola taluk of Idukki has a rich variety of flora and fauna.
One can enjoy the sight of animals like elephant, bison, sambar deer, wild dog, jungle cat, tiger, wild boar, various poisonous snakes like cobra and viper and non-poisonous snakes too.
Apart from animals and snakes the sanctuary offers you a wide variety of colorful birds like jungle fowl, myna, laughing thrush, black bulbul, peafowl, woodpecker, and kingfisher.
10. Idukki Arch Dam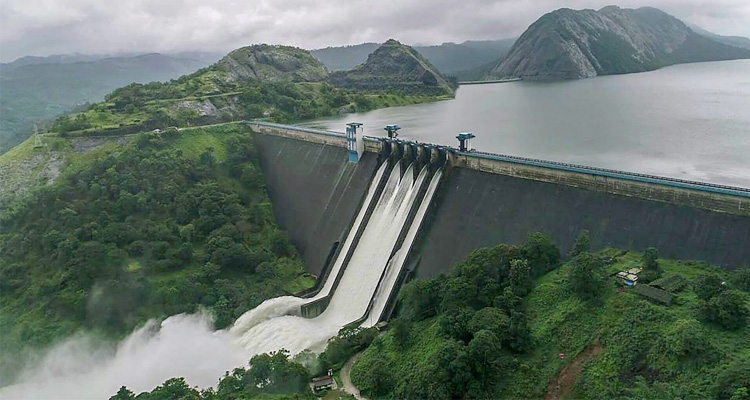 Idukki Arch Dam constructed across the Kuravan and Kurathi hills is the world's second and Asia's first arch dam. The Idukki Dam is situated near the Cheruthoni barrage and extents to an altitude of 550 ft with a width of 650 ft. This huge wonderful dam is a unique, fascinating site in Idukki.
There is an interesting story behind the origin of the dam. It is believed that Lord Rama cursed two natives Koravan (man) and Korathi (woman) to stones for staring at Sita while she was bathing. They begged Rama for Mercy as they never stayed separate. Lord Rama then blessed them that they will stay together for the years to come.
It's the Arch Dam, which connects the two hillocks Kuravan Mala and Kurathi Mala together. The Natives in here believes that its dam which reunites them. Kulamavu Dam, and Idukki Wildlife Sanctuary is located nearby Idukki Arch Dam. There is an option for pedal boating in the dam.
11. Waterfalls in Idukki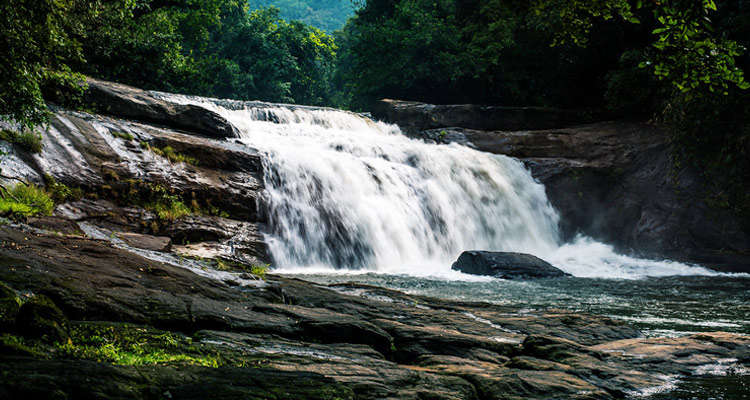 The famous picnic spot Thommankuthu is a series of cascading waterfalls. This seven step waterfalls surrounded by ancient caves is a pristine natural beauty. Another one The Rainbow Waterfalls amidst lush green forest also worth a visit.
The exotic Kuthumkal Waterfall rolling down from startling altitudes is a scenic spot surrounded by the lush greenery of nature. The divine beauty of these waterfalls is a refreshing experience. The elegant charm and the wild beauty of waterfalls draws thousands of tourists every year.
12. Religious Centres in Idukki
As per the history Central Idukki was once part of the Keezhmalainad Kingdom and later conquered by the Vadakkumkoor Kings who ruled Karikode, 3 km from the centre of Thodupuzha Town.
Due to its proximity to the dynasty's ruling centre there are many temples and mosques in here. The famous places of worship in here are Annamalai Temple, Karikode Bhagavathy, Krishnaswamy Temple, Uravappara Temple, Nainar Masjid, St Thomas Church and Kalvari Mount.
Where To Stay in Idukki
There are excellent staying options spread across the region. Nestled among the hills these hotels and resorts are best place to stay in Idukki. From budget to luxury there are a variety of options. You can choose as per your need and budget.
Some of the best staying options in Idukki are The River Bank resort, Greenberg Resort, The Pimenta resort, Edassery Resort, Maurya Monarch, Gemini Tourist Complex and Hotel Stoneage.
Places to Eat in Idukki
There are so many good restaurants in Idukki. There are traditional Kerala as well as Multi cuisine restaurants. Some of the best place to eat are Hotel Aarathi, Gopuram, Hotel Woodlands, Pappen's Restaurant, Maurya Monarch, Sicilia Hotel etc.