If you are fascinated by the houseboat cruise, visit Alumkadavu. Alumkadavu is the hub of Kettuvallam (traditional rice barges ) industry. In the olden days, these rice boats were used to move goods across the towns. A part of the boat was covered with bamboo and coir for kitchen and crew.
Over last few years these boats have been transformed into houseboats for tourists. You can also spend some time alone in this quite paradise. Alumkadavu, the backwater village is just 5 km away from Karunagappally. The Alumkadavu Sasthamkotta region in the North Kollam have a unique lifestyle.
Places to Visit in Alumkadavu
1. Sasthamcotta Lake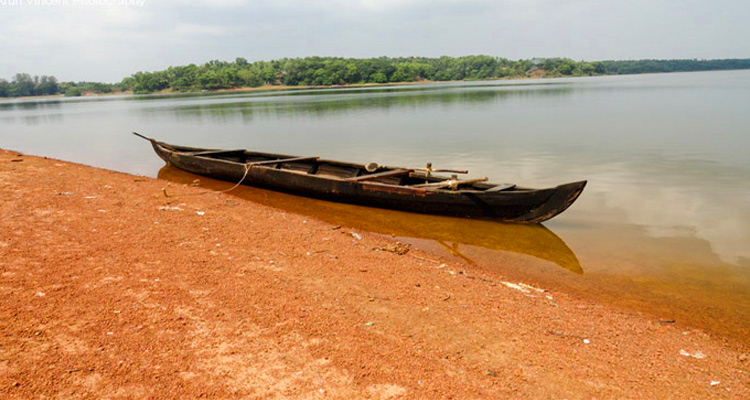 Sasthamcotta, a beautiful village situated about 19 km from Kollam Town is a centre of attraction and one of the most visited places in Kollam. This wonderful spot is also a pilgrimage centre and has a health resort in here. Sasthamkotta lake is the biggest freshwater lake in Kerala.
Sasthamcotta can also be called as Queen of Lakes. This lake is surrounded by hills on all sides except south where a wall is present separating the lake from the neighbouring rice fields. A major part of the lake has been reclaimed for agriculture.
2. Coir Making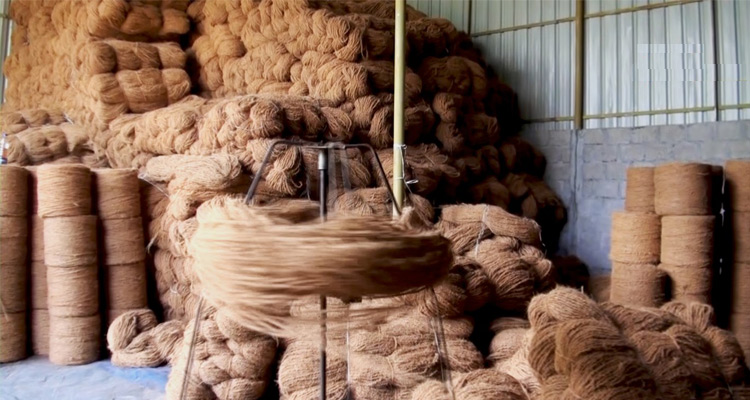 Kollam and Alleppey are famous for Coir products. In Kollam Alumkadavu is one of the important Coir making centre. One can see the process of Coir making in Alumkadavu. The workers involved in coir making do their work silently sitting around a spinning wheel called 'raattu' and coaxing coir fibre into ropes by hand.
3. Twin Temples of Cheriazheekal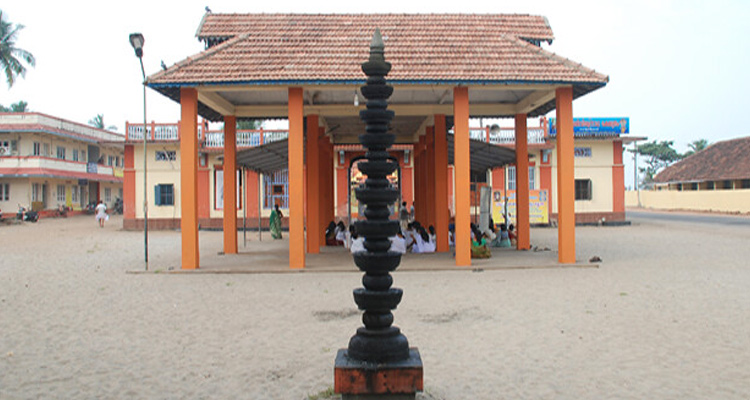 Cheriazheekal is known for its twin temples. The temple is for both Shiva and Vishnu. The Sri Kashi Vishwanath Temple is also known as the Deccan Kashi Temple, after the legend of the priest who went to Kashi and found a Sivalingam from Ganga when he stepped in and took a dip. The Sivalingam was brought back and installed here.
But it is also believed that the site housed a temple dedicated to Lord Vishnu 2000 years ago and was washed away. The present temple was built 150 years ago. In Siva temple, Shivarathri and in Vishnu temple Sree Krishna Jayanthi are celebrated.
4. Vadakkenadayil Bhagavathy Temple
This 1800 years old temple is right opposite to the Sri Kashi Vishwanatha Temple . This old temple was washed away and the present temple is 13 years old. Kannagi Devi is worshipped here. Every year in the second week of May, Thottam Pattu festival is celebrated where Kannagi's story is enacted as rendered in ancient Tamil epic Silappathikaram.
5. Amrithapuri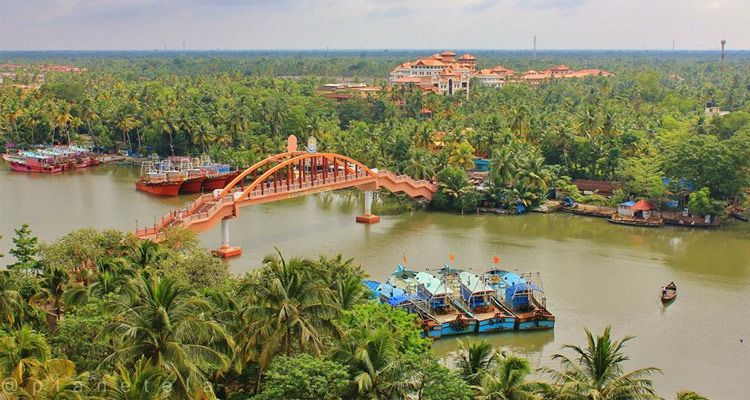 The idyllic Amrithapuri is located just 14 km from Alumkadavu. Ashram of Spiritual leader Matha Amritanandamayi is sited here with a lake on one side and sea on the other. Matha Amritanandamayi also called as Amma is known around the world as 'the hugging saint'. This Ashram is close to Amma's birthplace in the fishing village of Parayakadavu.
6. Devi Temple
This thousand year old temple is just 14 km away from Alumkadavu. There is a story behind this temple. The Portuguese tried to steal the temple but couldn't lay their hands on much and when they tried to leave their ships won't move until they returned and apologised for their deed by inscribing their repentance on the black stone. One can see the writing still there.
7. Ochira Temple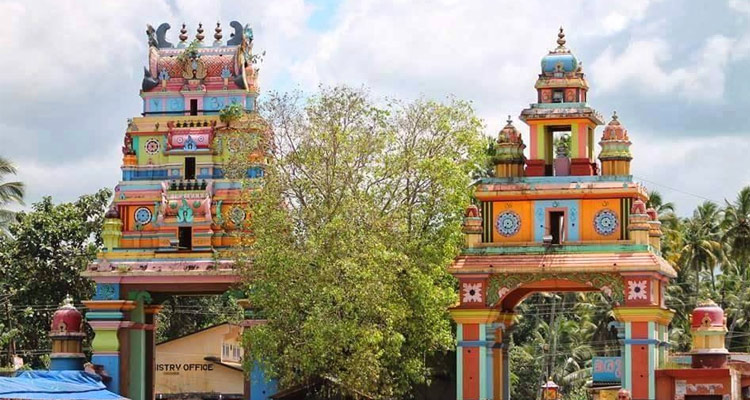 Ochira is a unique pilgrim center located 17 km from Alumkadavu in Kollam district. The peculiarity of the temple here is that this is not in conventional style, there is no predominant deity or statue.
There are some small idols around huge trees in an open space. One are of the tree is for Parabrahmam and other side for the female force Shakthi. People from all classes of society come here and worship the parabrahmam.
Ochirakkali, a festival held annually in June is the famous festival conducted here. Ochira is also an important handicraft center. The fancy articles of screw pine mats manufactured here are very popular among the tourists.
Where to Stay in Alumkadavu
In Alumkadavu there are some best hotels and resorts offering comfortable stay and traditional Kerala as well as multi cuisine dishes. Some of the best places to stay in here are Green Channel Backwater Resort, Vijaya Castle, Hotel Comfort Regency etc.
The restaurants in these places offer delicious veg and non veg cuisine. For seafood, tapioca and other local dishes the best restaurant is Mother's.